The Roster tab of the Admin Dashboard now gives you the ability to view additional employment and account details for your team!
Locating an Employee Profile
Click on "Roster" Tab and search or scroll to find the employee you'd like to see more details on
Understand an Employee's Benepass Profile
Enrollments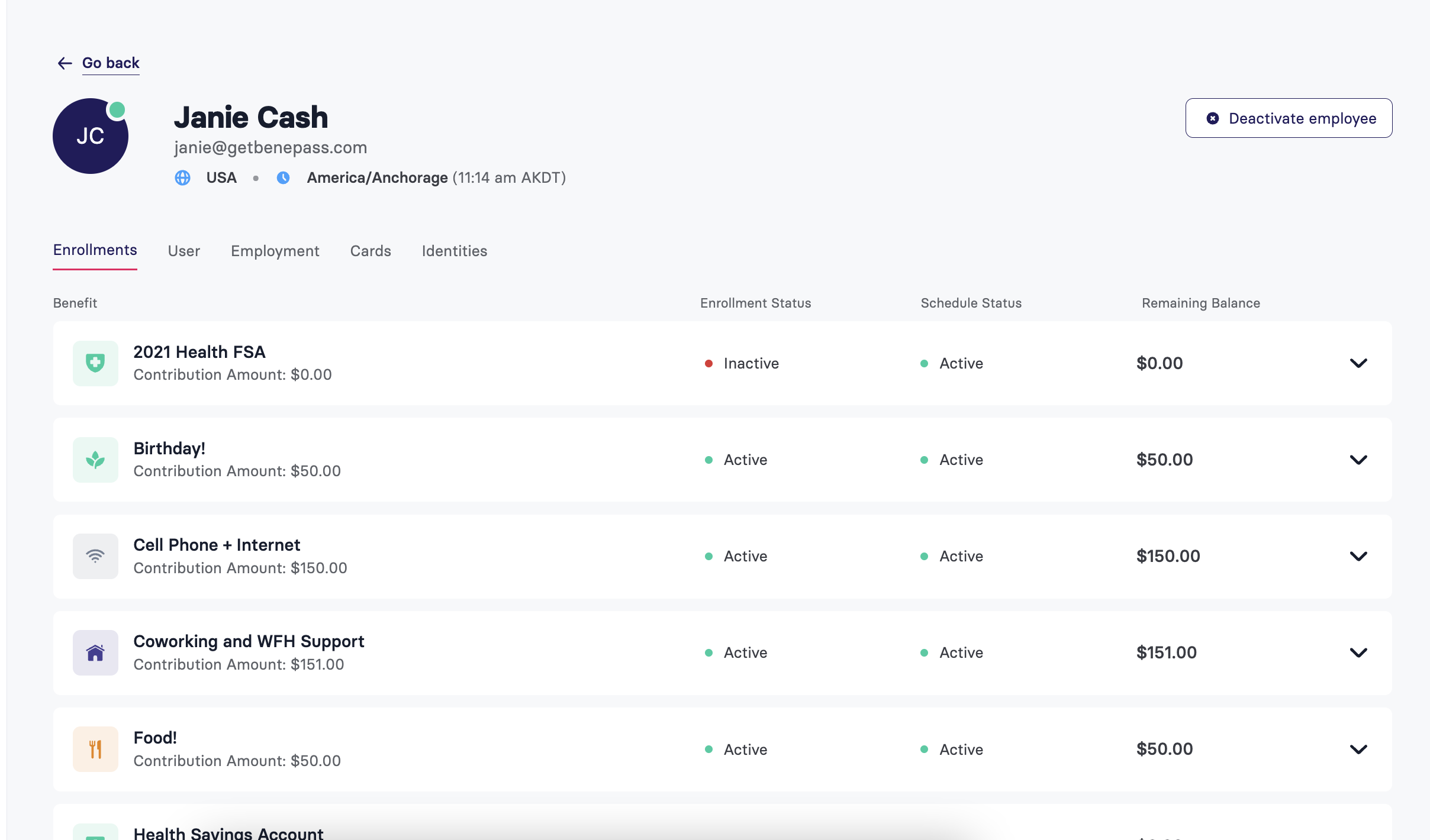 On the Enrollments tab of an employee's account, you can see the full spread of their benefit enrollments, as well as their remaining balances. The Enrollment and Schedule statuses indicate if the employee is still actively enrolled in this benefit and on schedule to receive contributions.
User
The User tab allows you to view, and in some cases edit, employee information. You have the option to view and edit first and last name, employee birthday (which you may have configured for certain benefits), country, and timezone.
If you'd like to give an employee access to HR admin capabilities, you can do so on this page by selecting the User HR Admin box.
Employment
On the Employment tab, you're able to view information relevant to the condition of an individual's employment. Here, you have the ability to view and edit employee numbers, employment types, and payroll IDs. 
You're also able to view hire & termination dates, as well as the employee's Benepass ID.
Cards
The Cards tab highlights the Benepass cards associated with an employee's account, both virtual and physical. Here, you can see the details of physical cards employees have ordered, such the shipping status and if the employee has activated it.
Identities
When an employee is created in the Benepass system, their work email becomes their primary login identity. To see all login identities associated with an employee's Benepass account, you can head to the Identities tab!
Questions? We are happy to help! Please reach out to Benepass Support for any assistance.